Isabelle Gounand

*
*
isabelle.gounand(at)univ-montp2.fr
Website : https://isabellegounand.wordpress.com/
I began my professional life as a photographer. I was interested in political and social ecology and alternative networks. These topics and contacts led me to want to do research in ecology and I have become passionate about the functioning of Nature.
I'm now a PhD student with Nicolas Mouquet and Dominique Gravel (UQAR). My general research theme is to explore the functioning of complex ecosystems by linking community, ecosystem and spatial ecology using the metaecosystem framework. My main interest is to understand the feedbacks between biotic and abiotic environments and their interactions with diversity.
*
*
*
Ecosystem Assemblage Model
I am currently developing theory on the following topics:
*
I am developing anecosystem assembly modelthat links aboveground and belowground communities with nutrient cycling. Based on ecosystem assemblage simulations of this model, I am analyzing the relationship between diversity and ecosystem functioning. In particular, I study how productivity interacts with community diversity through nutrient recycling and could eventually generate positive feedbacks (facilitation) of diversity on itself. I am studying also how fertility and regional diversity could affect the ecosystem assembly. I plan to extend this model to a metaecosystem perpsective to study the dynamic of assembly of metaecosytems.
*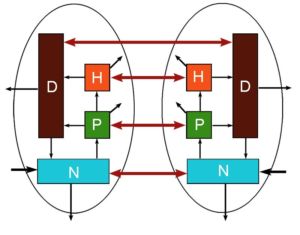 Metaecosystem model
I am also exploring a simplemetaecosystem model, adapted from Gravel et al (2010). I am attempting to determine how nutrient, detritus and/or organism fluxes between two ecosystems can influence the stability of local communities. I am focusing on varying nutrient input and dispersal rates to study the combined consequences of connectivity changes and enrichment. This relates to the paradox of enrichment (Rosenzweig 1971), by placing producer-herbivore pairs of species in a metaecosystem context.
*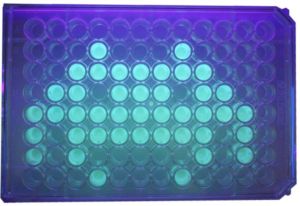 In parallel, I plan to take an experimental approach to investigate other possible metaecosystem effects. For this, I will use abacterial metaecosystem(interconnected microcosms) to analyze how dispersal rates and environmental heterogeneity interact with stoichiometric niches (nutrient acquisition abilities) to explain structure, maintenance and emergence (by evolution) of local and regional diversity.
*
*
*
Publications related to these topics:
Peer-reviewed papers:
Gounand I., Mouquet N., Canard E., Guichard F., Hauzy C. & Gravel D. (in press). The paradox of enrichment in metaecosystems.The American Naturalist.
Hauzy C., Nadin G., Canard E.,Gounand I., Mouquet N. & Ebenman B. (2013). Confronting the paradox of enrichment to the metacommunity perspective.PLoS ONE8(12):e82969. doi:10.1371/journal.pone.0082969.[pdf].
_______
Vulgarisation papers:
Gravel D.,Gounand I.& Mouquet N. (2010). Le rôle de la biodiversité dans le fonctionnement des écosystèmes. In:Ciência y Ambiente, pp. 63-83. [pdf]
Mouquet N.,Gounand I.& Gravel D. (2010). Biodiversité et fonctionnement des écosystèmes – Histoire d'un mariage mouvementé.Plume!, 13, 6-7. [pdf]
_______
Conference communication:
Gounand I., Mouquet N., Canard E., Hauzy C., Guichard F. & Gravel D. The paradox of enrichment in metaecosystems.Poster session, in :97th ESA annual meeting, august 2012, Portland.
Gounand I., Mouquet N., Canard E., Hauzy C., Guichard F. & Gravel D. The paradox of enrichment in metaecosystems.Oral presentation, in :Seminar of Modelisation in evolutive ecology, may 2012, Montpellier.
*
*
Nepenthes studies :
Peer-reviewed:
Bonhomme V.,Gounand I., Alaux C., Jousselin E., Barthélémy D. & Gaume L. (2011). The plant-ant Camponotus schmitzi helps its carnivorous host-plant Nepenthes bicalcarata to catch its prey.Journal of Tropical Ecology27:15–24.[pdf].
Photo :Nepenthes rafflesianavar.typicaJack. by Vincent Bonhomme
[catlist tags="gounand"]